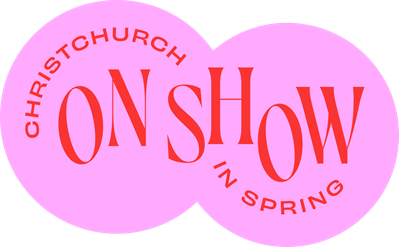 Noteworthy Gardens
Top Gardens in Canterbury
Beautiful tree-lined avenues, large central city parks and award-winning residential gardens are what adds to Christchurch's vibrancy! Get amongst the lush greenery Canterbury has in store for you and the whole family.
Christchurch Botanic Gardens
Located in the heart of Christchurch and a much-loved jewel of the city. The Christchurch Botanic Gardens feature one of the finest collections of exotic and native plants in New Zealand. With 500,000 recorded visitors each year, the Botanic Gardens are one of Christchurch's most visited public spaces.
The Armstrong Lawn within the gardens is home to the iconic Peacock Fountain, originally imported from England and installed in the gardens in the early 1900s.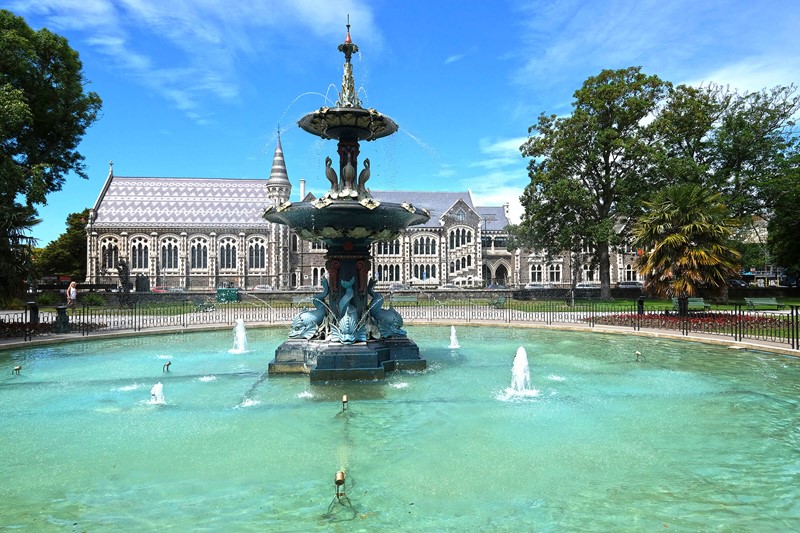 The Curator's House is another key feature of the Armstrong Lawn, built in 1920 as the home of the garden's curator. The house is constructed from volcanic basalt rock from the Port Hills Quarry in the Old English or Tudor style of architecture.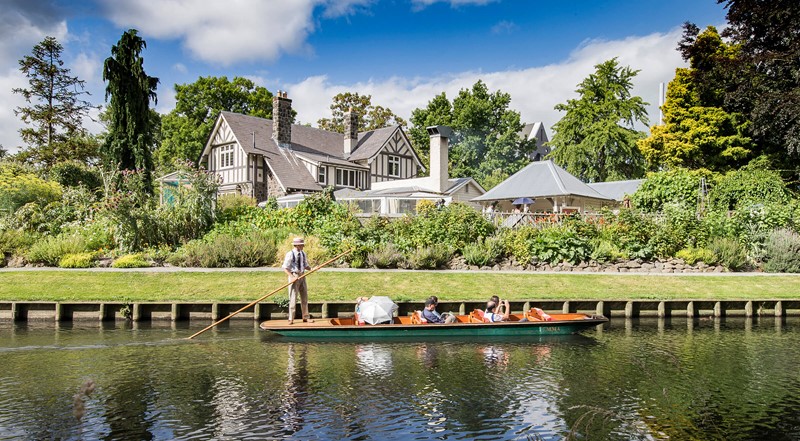 Fishermans Bay Garden
Fishermans Bay Garden is a superb example of how once rugged farmland can be converted into an idyllic multi-level garden. Taking advantage of the dramatic coastlines of Banks Peninsula the garden boasts a spectrum of colour, texture, long flower borders and sculptures including 100 hectares of regenerating protected native bush. The gardens are best viewed late summer, bookings are required.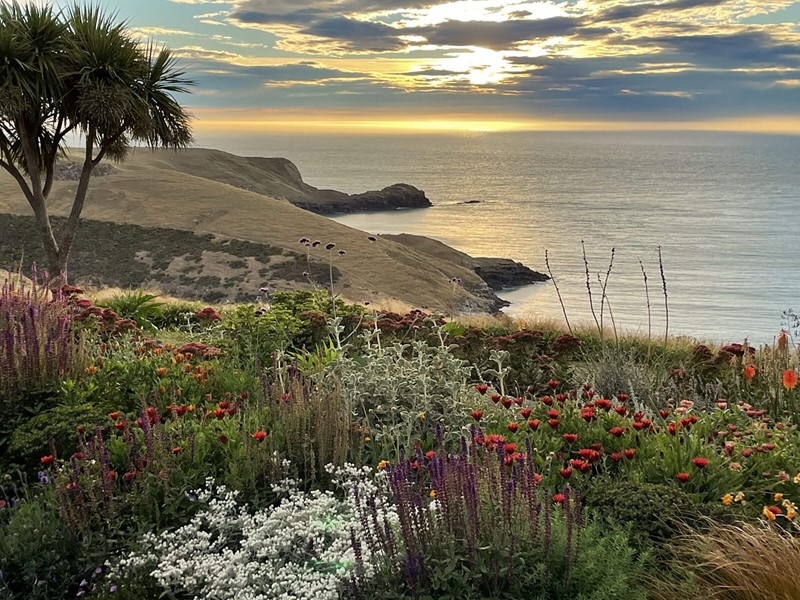 Ōhinetahi
Originally created by T.H.Potts New Zealand's first botanist in 1865, Ōhinetahi has a strong focus and several garden rooms capturing different styles. Formal lawn, curved macrocarpa hedges, rose gardens, boxed boarders, potager and woodland gardens are just some of the delights to discover.
The Giant's House – Artist's Garden
The Giant's House is a must see on any visit to Akaroa. The magical garden is filled with colourful, oversized mosaic sculptures. There are surprises around every corner, including a giant piano, terraced gardens, extraordinary wall mosaics, steel sculptures as well rose, vegetable and citrus gardens.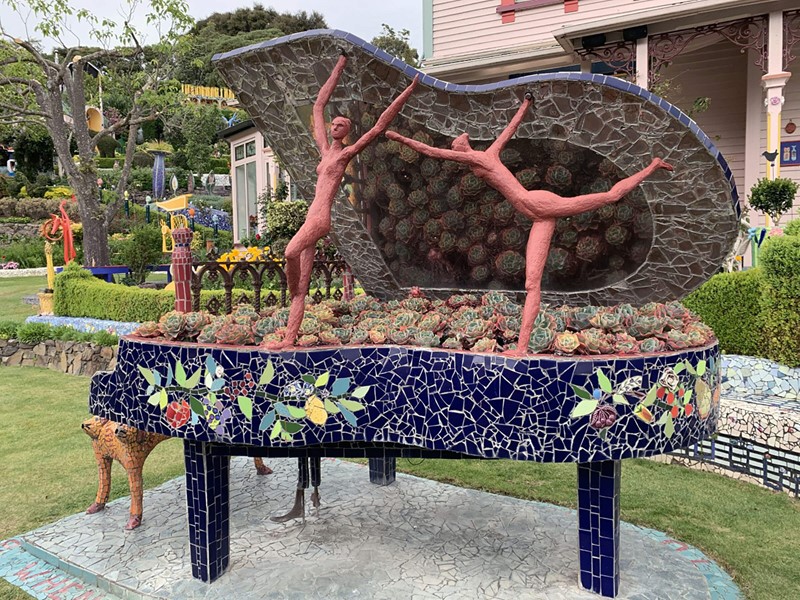 Broadfield New Zealand Landscape Garden
A large, mostly formal garden with a clear New Zealand theme and a strong use of native planting throughout, complementing exotic gardens, a formal rose garden and a separate area for rhododendrons and a large feature canal. Broadfield New Zealand Landscape Garden is open Wednesday - Saturday or by appointment.
Flaxmere
It's hard to believe that 45 years ago Flaxmere Garden was once a sheep farm. Located near Harwarden, just over an hour from Christchurch, the garden is expansive, framing the mountain backdrop and creating an element of surprise at every turn. Five ponds and extensive areas of native plants, woodlands, roses and rhododendrons create areas of peace and serenity.
Flaxmere is open by appointment only and morning, afternoon tea and lunch can be provided with prior arrangement.
Otahuna Lodge
Otahuna Lodge is home to the over 118-year-old gardens, sprawling over 30 acres. Vistas, intimate woodlands, comprehensive potager garden and nationally celebrated daffodil fields home to millions of bulbs that bloom every September. Gardens tours are strictly by appointment only, minimum numbers apply.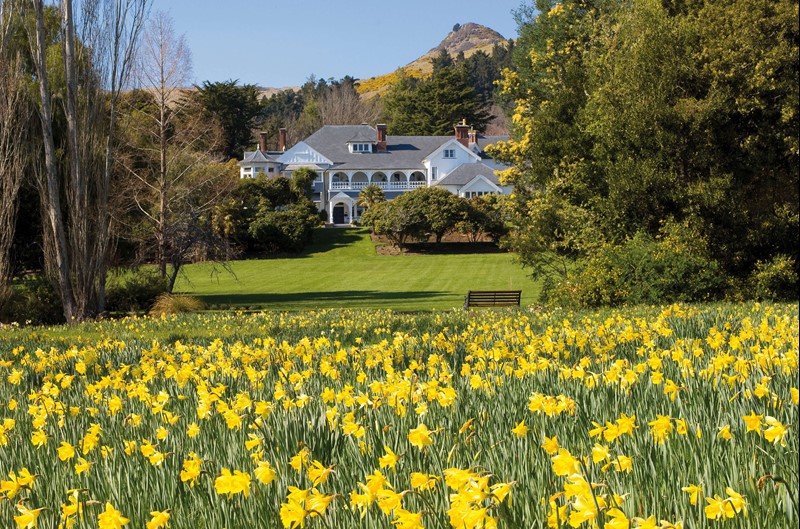 Ribblesdale Gardens
Nestled on the boundary of Oxford in North Canterbury is this beautiful garden surrounding self-contained accommodation, wedding venue and plant nursery. Ribblesdale is well signposted and very easy to find on the Inland Scenic Route 72, 1km east of the Oxford township and 40 minutes from Christchurch.
Timaru Botanic Gardens
The striking entrance of bedding plants provides the perfect introduction to a garden brimming with diverse collections. Endangered plants from around the world can be seen in the conservatory complex. Recognised as a garden of national significance, the Timaru Botanic Gardens is a must see when travelling to South Canterbury.
Trevor Griffiths Rose Garden
This stunning garden comprises of a series of geometric beds and strong lines created by the use of steel structures, which casually houses over 1100 roses! December is a fantastic time to view The Trevor Griffiths Rose Garden, located in central Timaru and is owned by the community!