Explore
The West Coasts Best Outdoor Adventures For Winter
West Coast Winter Adventures
Winter might seem an unconventional season to embrace the outdoors, but then again maybe it's an ideal time for travelling from Christchurch to the West Coast for some wild weather adventures.
UnderWorld Adventures For Caving, Glow Worms And Rubber Ring Rafting
It's bucketing down when ChristchurchNZ pulls up to the UnderWorld Adventures car park in the West Coast township of Charleston. Much like everything on the West Coast even the rain drops are a little bit extra.
Turns out a few passing showers don't matter when you're spending four hours in the Te Ananui (Metro) caves within the Paparoa National Park, a half-day drive from Christchurch city.
In fact, all you need is a full suit of rubber, a caving helmet and light, a life jacket and an inflated rubber ring (all provided by UnderWorld Adventures). Get a river level and weather check from company general manager Aidan Shurr and you're good to go.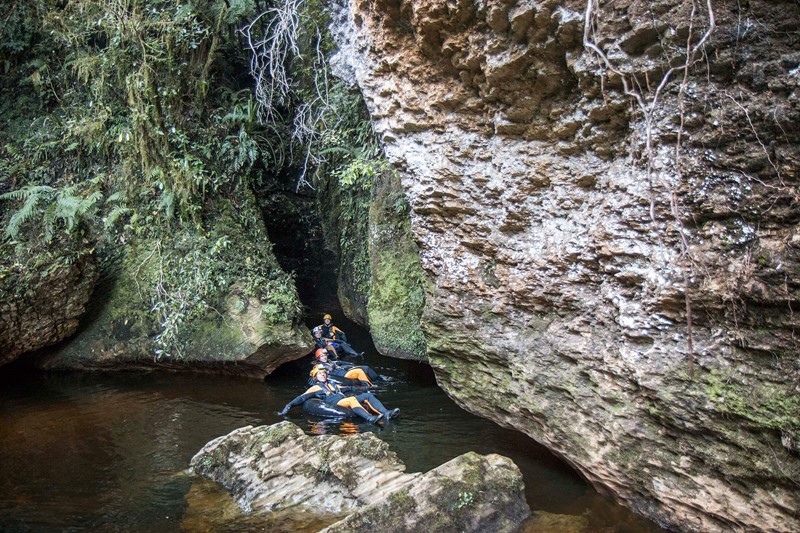 It's around 10.30 when we reach the cave entrance with Andrea, my guide. At this point, we've ridden the Nile River Rainforest Train through glossy West Coast forest and hiked a steep yet well-formed track up a limestone cliff.
Entering the cave is a bit like entering an extraterrestrial world. It's completely dark, eerily silent and yet full of delicate, otherworldly sculptures. Huge tracts of calcite drip from the cave roof, resembling gothic chandeliers. Some form ominous, metres-high fairy queendoms. Other more jagged formations look like the jaws of dinosaurs and the voiceless yet terrifying mouths of other beasts.
Over time, as we follow the marked pathway through limestone rock, we come across large rounded outcrops shaped by the power of flooding river water and occasional clues to early cave exploration (original footprints preserved in dust).
Eventually, thousands and thousands of delicate, blue-lit glow-worms appear in the darkness suspended like stars from the cave system's ceiling. And we re-enter the world of light again.
But there's still more to today's adventure. Pulling on thick, webbed gloves, while sitting inside rubber rings, we heave ourselves into the vigorous flow of the Waitakere (Nile River) for a refreshing end to our journey into an alien world.
On Yer Bike For Off-Roading Through The Forest
Need a few more thrills? You'll find them further south in Coal Creek on State Highway 6 where beef farmer Mike Roper runs an off-roading experience called On Yer Bike. Choose your off-road vehicle (there are several types on offer) and head into the rainforest for hours of raucous, dirt-splashed fun. Mike will kit you out in all the gear you'll need (helmet, wet weather gear and gumboots). If you're lucky, he'll personally guide you on the popular 16-kilometre Waterfall and Forest Track Combo Tour ideal for anyone keen on a varied track and a bit of mud in the eye.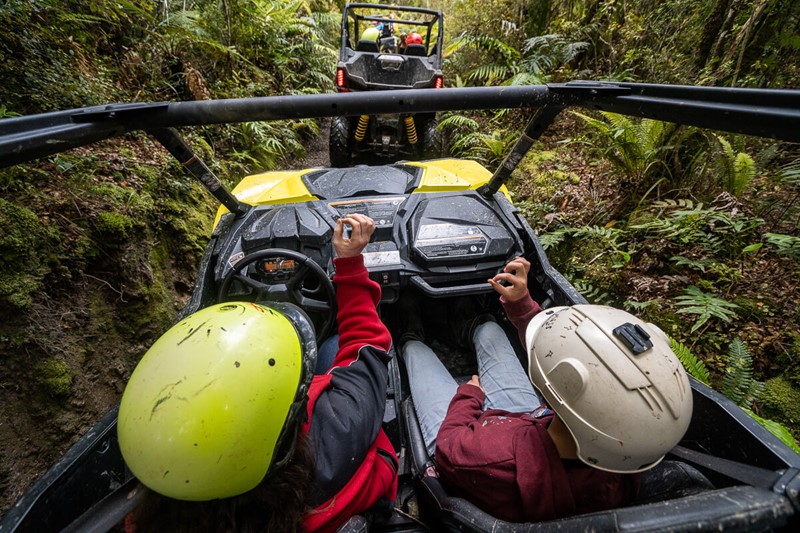 Glacier Helicopters For A Snow Landing In The Southern Alps
When the weather's on, there's nothing better than a scenic helicopter ride into the Southern Alps. Glacier Helicopters, based at Main South Road in Franz Josef, offer an impressive 20-minute flight that takes you up and over Franz Josef glacier to land on snow. Gear essentials include sunglasses (the glare!) and a camera (to capture the views and any snow angels you might want to do on the mountain's pristine surface).