Explore
Best Climbing In Christchurch
Why Ōtautahi Christchurch Is The Best Place
In New Zealand To Be A Climber
Thought Ōtautahi Christchurch was flat? Think again. This city is surrounded by cliffs and hills making it a veritable hot spot for climbing. It easily contends for the title of the best city in New Zealand to be a climber. It's time to shift your understanding of what Ōtautahi Christchurch is all about.
Whether you're into suburban cliffs, hilltop crags or indoor/outdoor bouldering, Ōtautahi Christchurch has you covered.
Port Hills
Dominating the southern skyline of Ōtautahi Christchurch city, the Port Hills are a climbing adventurers playground.
Cattlestop Crag has more than 100 routes across a sheltered cliff face above Heathcote Valley. This includes a heap of short sport routes and some traditional climbs. Park on Summit Rd just near the Gondola building and walk the track down to the walls.
Albert Terrace Crag is a cute little spot that's super accessible (there's a bus stop nearby). Ideal for those transitioning from indoor climbs to the great outdoors, the tidy cliff face offers 15 routes surrounded by pine trees and green growth. You'll find this cool spot on...you guessed it...Albert Tce in St Martins.
Gibraltar Rock is small but epic, with 14 routes overlooking the Canterbury Plains. Known for its great rock quality and idyllic setting, it's an ideal spot for a day of climbing. Park at Omahu Bush Reserve car park on Summit Rd and walk the track to the towering rock.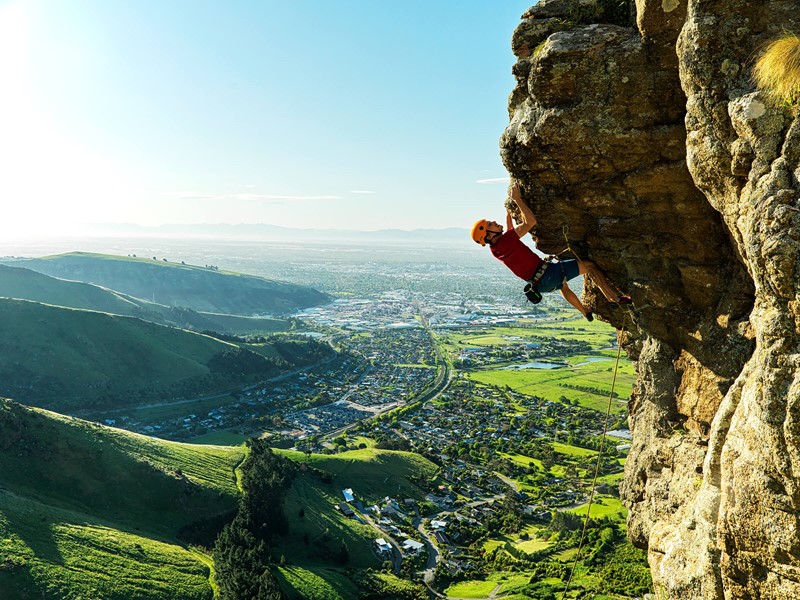 Uprising
Uprising is a phenomenon. It's one of the largest bouldering gyms in the Southern Hemisphere and is an indoor climbing wonderland. What's bouldering? It's a safer and simpler version of traditional rock climbing with no ropes and a problem-solving take on a physical activity. They regularly change the routes and their cafe is healthfood-centred by day, pizza and beer focused by night. They've even worked with a local coffee roaster to create their own blend, AND a local brewer on their own ale.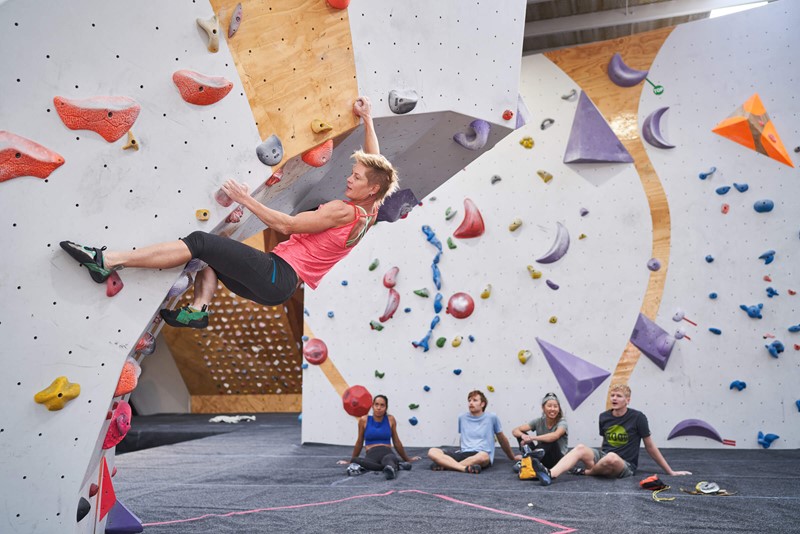 Castle Hill
Kura Tāwhiti (also known as Castle Hill) is a special place. It's often crawling with tourists but those in the know head here for some of the best bouldering in the world. The limestone giants rise from the grasslands in an other-worldly fashion offering hundreds, if not thousands, of bouldering routes. Kura Tāwhiti has long been a sacred and protected area by Māori, and it continues to be a Conservation Area. It's just over an hour from Ōtautahi Christchurch city on SH73 to the West Coast.